Join our team!
What it's like to work at Wisconsin Diagnostic Laboratories
Medical laboratories perform all of the testing and analysis for patients to provide information to health care providers to make timely and accurate diagnoses of injuries, infections and illnesses. A Medical Laboratory Scientist (MLS) specializes in the many hundreds of tests and technologies involved in pathology testing.
There are two primary divisions in the medical laboratory: Clinical Pathology and Anatomic Pathology. WDL has training opportunities for both clinical pathology and anatomic pathology.
Clinical Pathology deals with blood and other body fluids such as urine. Results usually are provided within hours, and sometimes in minutes for critical testing. Areas of specialization include chemistry, hematology, and microbiology.
Anatomic Pathology deals with tissues and tumors, and cases may involve numerous tests with a primary focus on the diagnosis of cancer. Areas of specialization include cytology, surgical pathology and autopsy.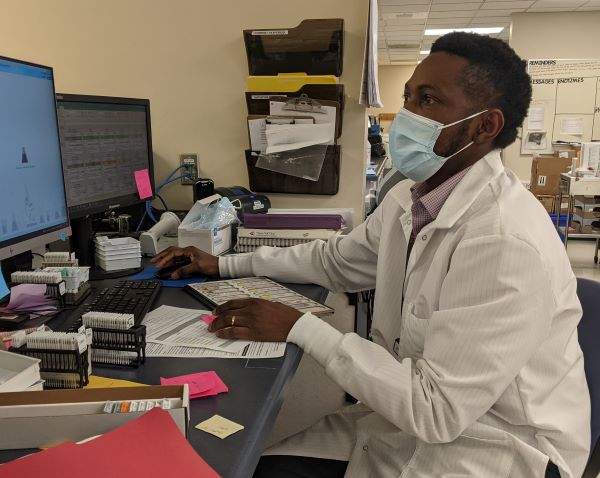 Clinical Pathology
Applicants who have completed Bachelor's degrees in molecular or microbiology, chemistry/biochemistry, neurology or other advanced science degrees may apply for full-time paid training positions as Non-Certified Technologists, which are designed to allow applicants to take a formal certification exam as a Medical Laboratory Scientist, either as a generalist or in one of the specialty areas such as chemistry, hematology, microbiology or cytogenetics. Upon satisfying the requirements for certification, the Non-Certified Technologist will take the appropriate certification examination to become a Certified Technologist or MLS.
Certified Technologist/Medical Laboratory Scientist (MLS): performs waived, moderate complexity and high complexity testing on patient specimens. Correlates and interprets data utilizing critical thinking skills and advanced knowledge of techniques, principles and instruments. Effectively performs problem resolution, equipment maintenance, reagent preparation and test result data entry. Successfully and timely completes all required competency assessments. Assists in development, maintenance and performance of teaching, training and competency assessment programs for students, new employees and residents/medical students. Performs quality control review and maintenance. Assists in policy and procedure development, revision and maintenance. Trained and competent in advanced testing.
Medical Laboratory Technician (MLT): similar to above, but with less complexity and less advanced testing performed. Requires an Associate degree in Clinical Laboratory Science and ASCP or AMT certification within one year of hire.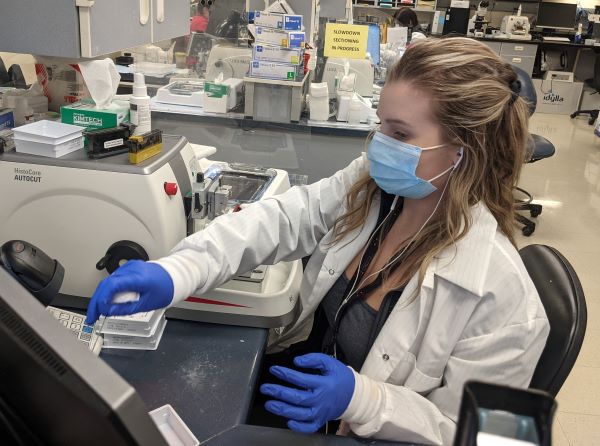 Anatomic Pathology
AP has a complete career ladder that functions in part as an apprenticeship program, designed to offer the experience and training required to take the histologist and histotechnologist certification exams. A completed degree is NOT required. These positions are AP Laboratory Technical Assistants (LTAs). A limited number of full-time LTA positions are available and open to juniors and seniors in science programs. LTAs may take the certification exam after one full year of employment.
Part-time (Casual) LTA positions are also available, and are designed for those focused on their studies who are unable to work full-time. Trained casual LTAs receive the same training as full time LTAs, but the equivalent of one year of full time employment is required before sitting for the certification exam.
Having already been trained, casual LTAs are strong candidates for full-time positions when they become available. LTA positions are opened several times per year, as many of our LTAs take advantage of their lab training to become credentialed and then promoted, or move on to graduate studies or medical school.
LTA I, II & III (Laboratory Technical Assistant): Perform the many and varied duties surrounding tissue testing in the AP lab. This involves examination of specimens for intake, processing cases for diagnosis, prep for immuno-histochemical staining and performance of immuno-fluorescent staining. In addition to WDL's histology training program for LTAs, specialty training may also be provided for promotion to Gross Technician (dissection and preparation of tissues and tumors). Requires college level biology and/or chemistry coursework or previous medical laboratory experience.
Histologist/Histotechnologist: Our certified HT and HTLs specialize in converting the gross tissues from our patients into slides. They develop a strong, hands-on skill set for slide creation and perform various types of staining (tissues type, protein staining, immuno-histochemical, immuno-fluorescent), which confirms diagnoses for different cancer types and genetic profiling for proper chemotherapeutic care for cancer patients. Our histology division works closely with our pathologists to ensure the best patient care.